Modelio Document Publisher module
Get professional documents from your system or software model,
always in synch, according to your required document templates
included in:


Modelio SD(extension)


Modelio SA


Modelio BA
Key features
Model-driven document generation
Generation in Open XML (MS Word), HTML or LibreOffice formats
Model-docx synchronization through round-trip facility
Large set of "off the shelf" document templates, covering the entire lifecycle
Document assembly mechanism
Hypertext links between elements, and from diagram contents to elements
Inclusion of any kind of external element in the document (graphics, other documents, ...)
Document property management
Documentation creation wizards
Parameterizable stylesheet using MS-Word features or CSS documents
Document template editor to define dedicated types of document templates, and to modify the document templates available as standard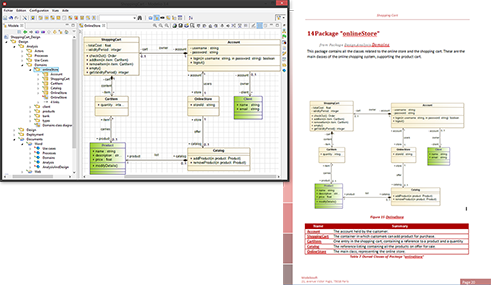 ---
To find out more about what Modelio Document Publisher can do
---
Professional document generation at your fingertips
A high-quality project means complete, consistent, up-to-date and relevant documentation, but who enjoys authoring documents? And how can you guarantee that documentation standards will be respected?

Modelio Document Publisher makes it easy to write and produce quality documentation, simply by making the most of the models you build. By providing assistance in what you should write, this module ensures that you need only write what is truly necessary, before automatically producing documents of a quality far superior to those created manually.

As an example, you can generate composite documentation that includes a glossary, requirements, a section dedicated to use cases, a section dedicated to class diagrams and a traceability matrix, with hypertext links systematically included.

So let yourself be amazed by the professional quality that you immediately obtain when generating a document using Modelio Document Publisher. You'll never look back...

Download an example of a document generated by Modelio Document Publisher...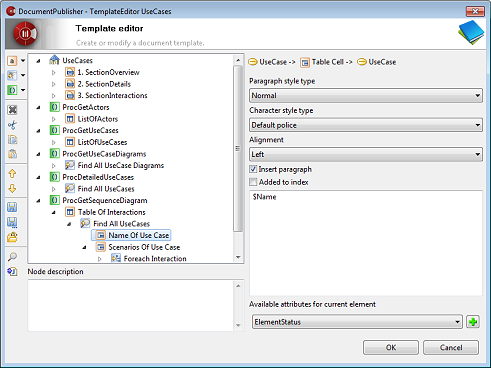 ---
Define your own document types through the graphical document template editor
A document template is a sort of detailed table of contents that describes the form that you want a document generated from your model to take.

With Modelio Document Publisher, you can define your own document templates using a dedicated graphical editor with absolutely no programming necessary, to generate documentation that really meets your needs.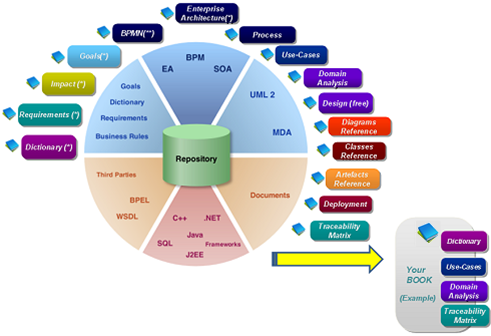 ---

At your request, Modeliosoft can realize for you dedicated document templates.