Modelio Modeler
Efficient, extendable and productive modeling
included in:


Modelio SD


Modelio SA


Modelio BA
Key features
Complete UML2, BPMN and EA modeling support
Ergonomic and familiar GUI (RCP/Eclipse-based)
Modeling wizards (intelligent drag&drop, smart element creation, complex element capture)
Smart element referencing mechanism (text completion, "direct click" referencing)
More than 280 real-time, customizable consistency checks
Extendable through "off the shelf" or bespoke modules
MDA support, from basic to expert (open metamodel access, rich Java API for customization, ...)
Integrated scripting language (Jython) support, for online requests, small scripts and macro definition
Hyperlink support for easy diagram navigation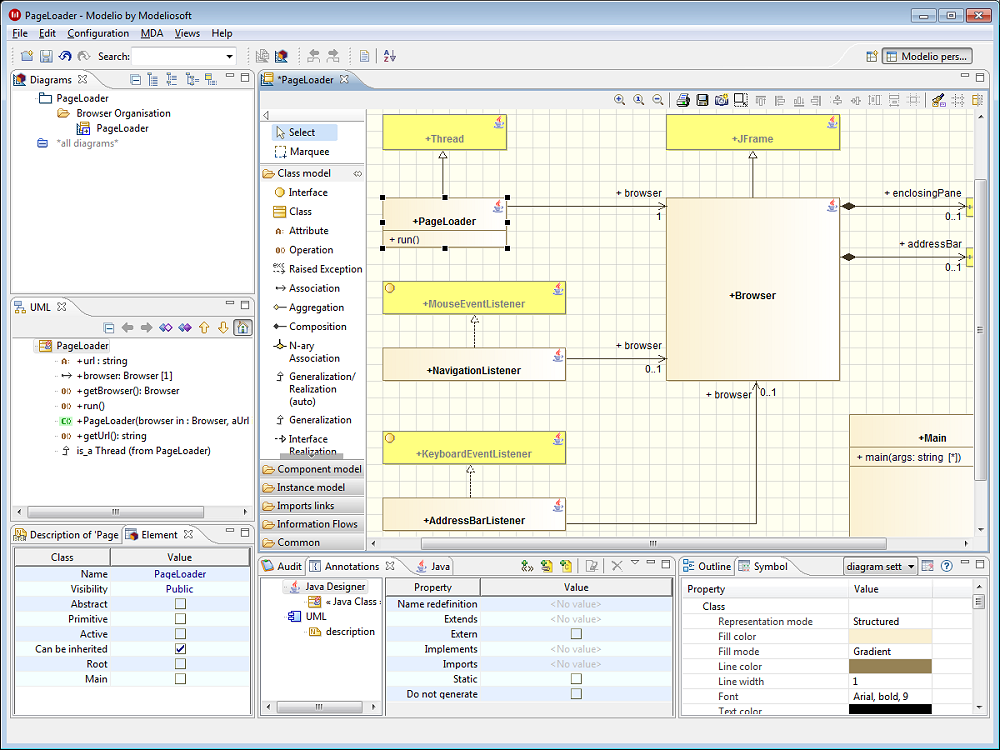 ---
Modelio enables productive, quality modeling

Far more than just a graphical tool, Modelio provides several features that ensure the permanent consistency of your models. Semantic editors prohibit invalid modeling features, smart interactors provide the most likely element creation result where tricky choices exist, and wizards help you create complex elements. Modelio also runs more than 280 customizable consistency checks on your models in real-time, to guarantee model quality.
Modelio is an easily extendable tool. Just choose the modules that best suit your context or implement your own extensions using Modelio's MDA features, and you will obtain a bespoke modeling environment that will improve team productivity and development quality.