Modelio generated document examples
Use Modelio Document Publisher to generate highly professional documentation
See documents generated from Modelio
Depending on the customizable document template used, Modelio is able to generate documents that meet your objectives and document standards.
(Click on the images below to access the corresponding documentation)
More information about the Modelio Document Publisher module
Softeam INCOSE Solution (OpenXML)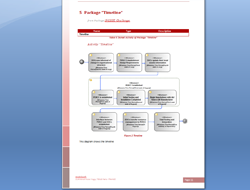 Automatic document generation is one of the many features of the Modelio environment. Here, in this particular case related to the INCOSE 2012 Tool Vendor Challenge (TVC) Solution, an automatic OpenXML document was generated from the modeled project.
You can also consult a PDF version of this document.
Incose TVC Solution - Web Model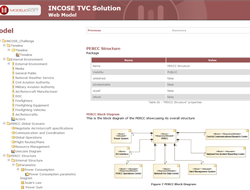 The Web Model enables designers and project managers to review the complete specifications of a system (for example, hierarchy, system composition, etc.) without having to install Modelio. This can also be beneficial for off-line usage. These specifications in turn can be commented upon by reviewers, enabling system designers to carry out any necessary modifications, and resulting in increased synergy.