White paper
Enterprise Architecture to cope with unpredictable situations
To know and exercise your rights, including the withdrawal of your consent to the use of the data collected by this form, please consult our legal notice.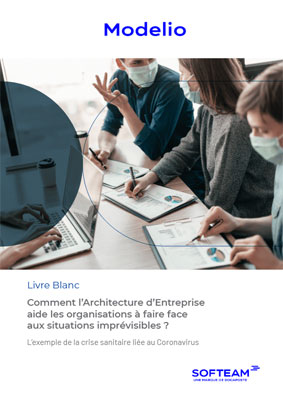 The current context of a COVID-19 pandemic has forced organizations to gain agility to continuously adapt and to overcome the health but also economic crisis.
How to anticipate such crises? Can Enterprise Architecture provide solutions?
Enterprise Architecture considers the company as a whole: human organization, know-how, resources, sites and information system in order to know how it works and to optimize it to meet the constraints of its constantly changing environment. evolution.
Throughout this white paper, discover the importance of modeling your organization to gain a broader vision of the company and its ecosystem. Having a good knowledge of interactions between actors and in business processes allows you to make informed decisions on what can be dematerialized, delocalized, secure or what requires a physical presence.
The mapping, once established and shared between the actors, will identify weaknesses and workarounds in the event of a crisis in order to prepare for the future.