White paper
Systems Engineering using Modelio: INCOSE 2012 Symposium's TVC case study
To know and exercise your rights, including the withdrawal of your consent to the use of the data collected by this form, please consult our legal notice.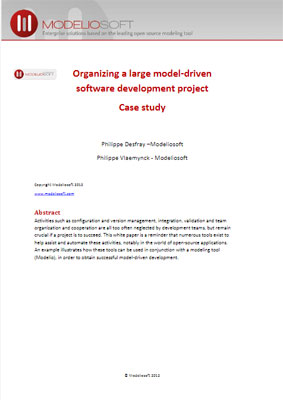 This white paper describes Modelio's capabilities for carrying out Systems Engineering using SysML.
The case study illustrated in the white paper represents a Modelio based solution that responds to the International Council on Systems Engineering (INCOSE) 2012 Symposium's Tool Vendor Challenge (TVC). The idea behind the TVC is to enable the symposium participants to evaluate system engineering tool vendor products against a common problem statement.
The 2012 Tool Vendor Challenge was related to specification of a national emergency response system for handling forest fires/wildfires, as stated at the INCOSE Website.
Our solution makes use of SysML and BPMN standards to provide a comprehensive solution, including aspects such as related to requirements engineering, system structrual/behavioral specifications, co-design of underlying hardware/software and the related mapping, parametric specifications, traceability management, along with additional features such as automatic diagram and document generation.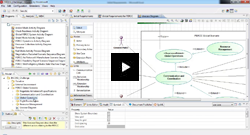 Download a video of this case study (Format mp4 - Size: 51Mb)
archive Download the Modelio project used for this case study (61.57 MB) (Developed with Modelio 2.2 and compatible with Modelio commercial solutions)