Modelio: New version 3.7 Improves BPM/BPMN support and provides dedicated GUI for each user profile
Modeliosoft is proud to introduce our new Modelio 3.7 version, which enhance Modelio users' experience.
New "Document" view on model elements
For each model element, Modelio manages many document related features. As a convenient way to handle this, a dedicated document view has been created. By selecting a model element, the user accesses:
Its textual descriptions,
Related diagrams (focused on the element and where the element appears)
Matrices
Linked internal and external documents
Document previews
Document generation and document attachment actions.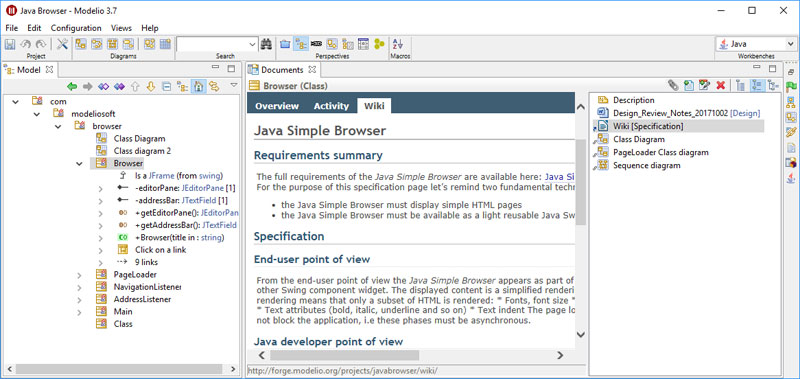 Document view: The current element ("Browser" Class) appears in three diagrams, has an attached note, external document and a Wiki link that (as selected) appears as a preview.
The document template editor has been renewed in order to increase its power and ease of use.
A fit-to-user's-expertise GUI
Using the new "Workbench" feature of Modelio, users select the modeling capacities that suit their expertise (i.e. data modeler, Business Architect, Java Architect, BPM analyst, Requirements analyst, etc.). The Modelio GUI and model support is then focused on each user's expertise, improving its simplicity and efficiency.
Thanks to Constellation, administrators and project managers can specify workbenches for user profiles.
Two workbenches, one for Requirement analysts; the other for Archimate practitioners, provide two different views on the same project
Improved BPM / BPMN support
BPM activities require to define the enterprise context in which processes are executed: defining intervening roles and organization units, connecting processes to handled data, providing an overview of flows and processes, connecting processes to supporting applications...
Modelio supports this through a smooth BPMN/UML integration. The BPMN2 support has been improved in order to simplify the user experience, with a business oriented view of BPMN models. Graphical wizards and interactors provide an easy and agile BPMN modeling support.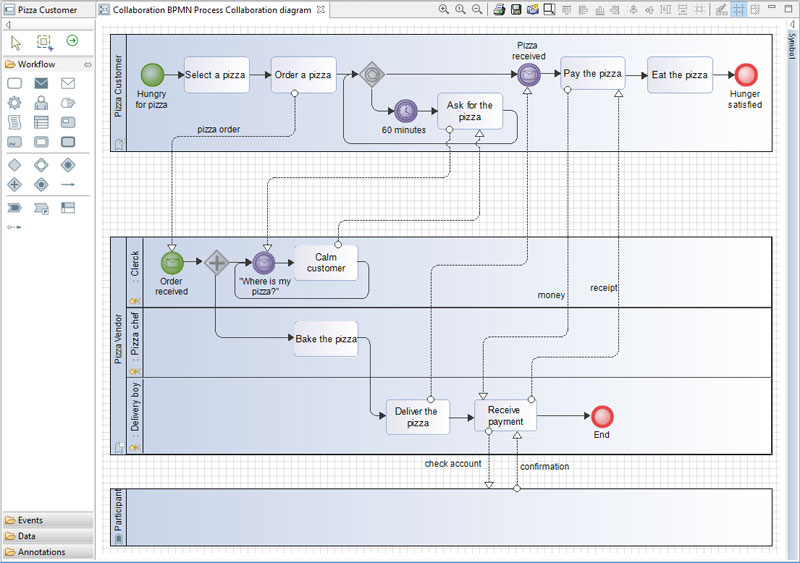 New dedicated document templates, designed by SOFTEAM's BPM senior consultants, provide a highly professional document generation for business processes.
Ergonomics improvements
Diagrams are enriched with new diagram styles, and appealing palette and symbol GUIs.
The FLE (Fast Link Editor), is now entirely generic, with a simpler and more powerful GUI, making traceability and impact analysis support even more efficient.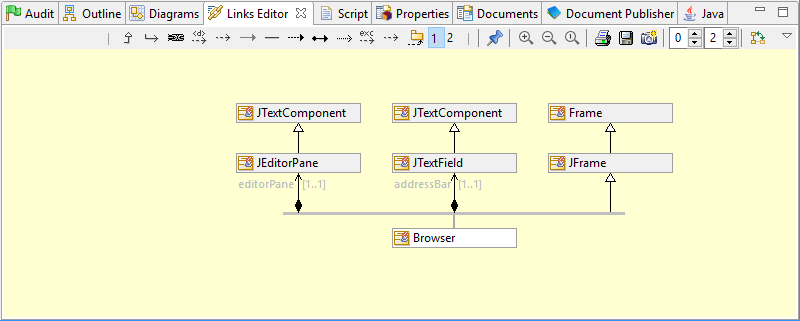 "FLE" – Model links diagram editor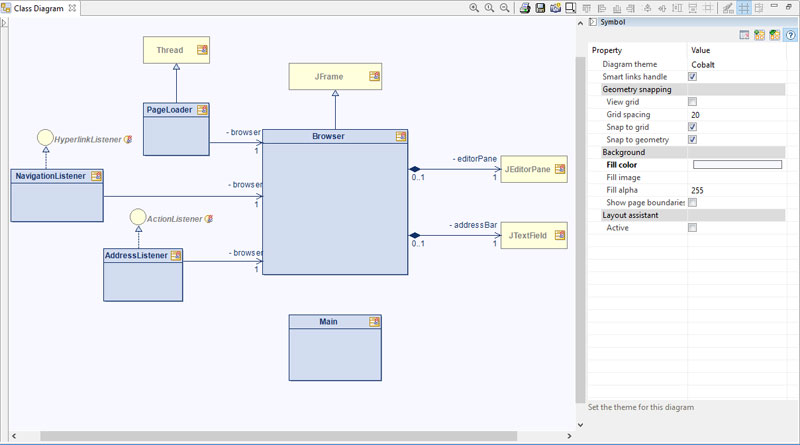 Set easily your graphical preferences with the "Symbol" view