Modelio SD Java
Design your software, generate Java code & test.
Maintain permanent code/model consistency.
Audit, document, improve and industrialize existing Java code.
Manage requirement traceability and impact analysis (Analyst extension)
Key Features
Modelio SD Java provides valuable time-saving features for Java developers, designers or architects.
Work at the Model level (Modelio), or Code level (your IDE such as Eclipse), Modelio guarantees a permanent code/model consistency.
---

Modelio SD Java can be extended to manage requirements analysis, generate documentation or generate/reverse SQL schemas.
---
---
UML and BPMN modeling
Modeliosoft SD Java provides support for UML, BPMN, SOA and Enterprise Architecture modeling, together with smart modeling wizards (intelligent drag and drop, smart element creation, complex element capture) to make your life easier. Models can be exchanged between modeling tools using the XMI import/export feature.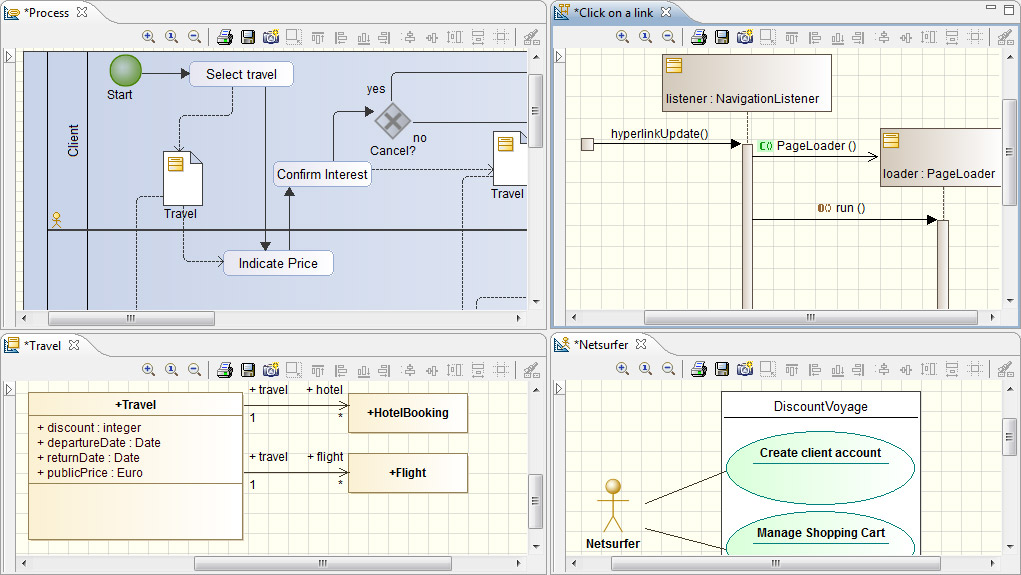 ---
Complete generation of Java 8 code

Modelio SD Java generates complete code for your Java applications based on UML models and additional Java code elements (operation code, annotations) attached to models.

Modelio produces standard-compliant Java 8 code, enables developer implementation choices to be applied, and provides wizards that generate Java accessors and utility functions.
---
UML/Java synchronization
Modelio SD Java guarantees that your UML architecture and your Java code are constantly maintained in sync, in both model-driven or full roundtrip modes.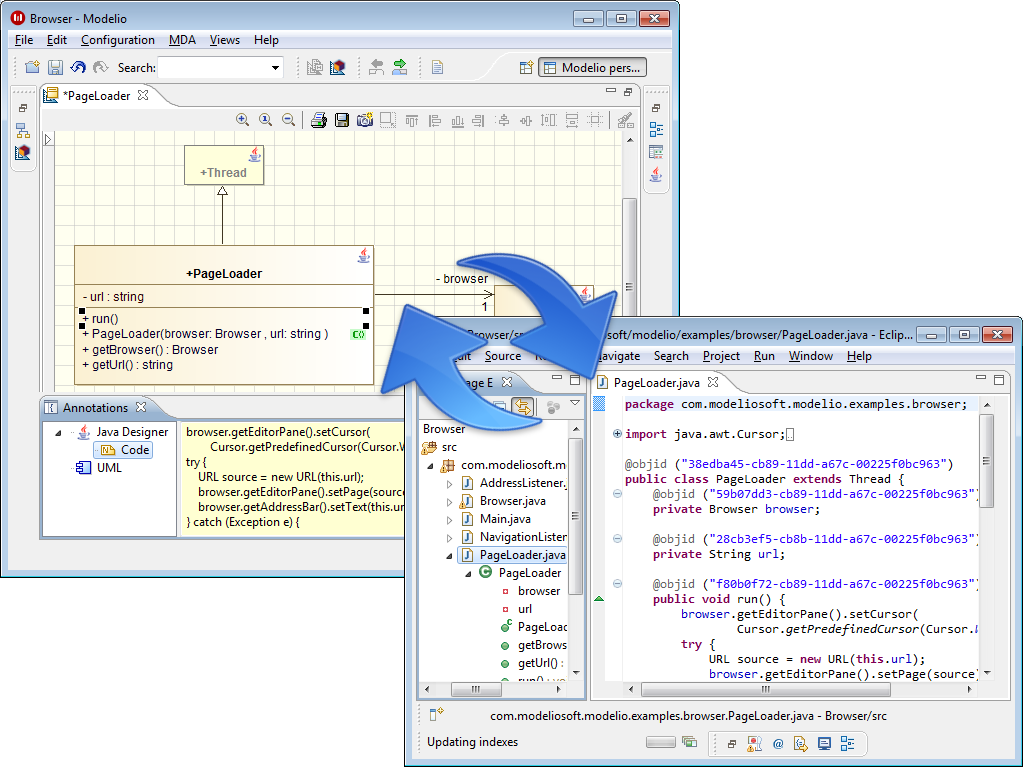 ---
Enhanced Javadoc generation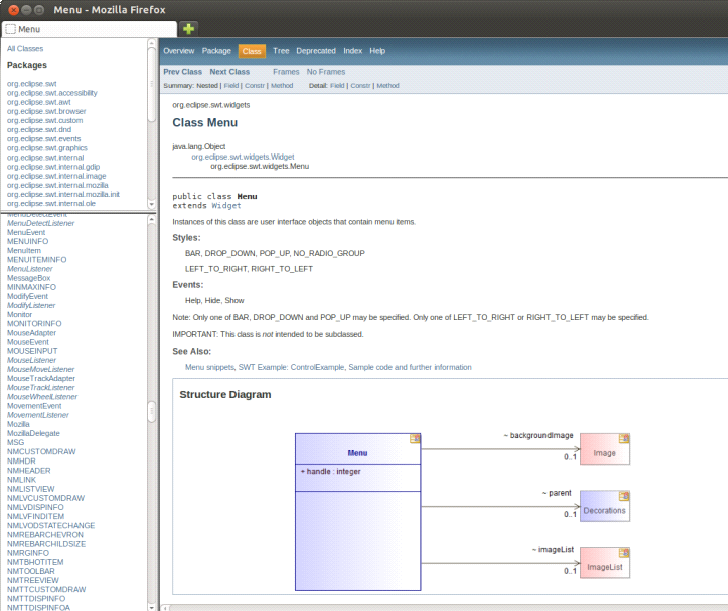 Never before will you have seen Javadocs as attractive as those produced by Modelio. With Modelio, you can automatically improve all the Javadocs belonging to your existing applications, by automatically inserting UML diagrams, with an HTML inter-diagram browsing feature. Javadoc comments can be accessed while browsing the model, and are kept permanently in sync with the model and the Java code. These Javadoc comments can also be reused to generate other documents with Modelio (architecture documents, audit documents, and so on).
---
Full support of Java 8
Java 8 offers a number of advantages and is fully supported in our UML tools for Java design. In UML, you can choose the collection implementation you want to use in your generated Java code, and in Java, you can use annotations, generics and collections, which will be effortlessly translated into UML.

---
Reverse engineering and automatic construction of UML diagrams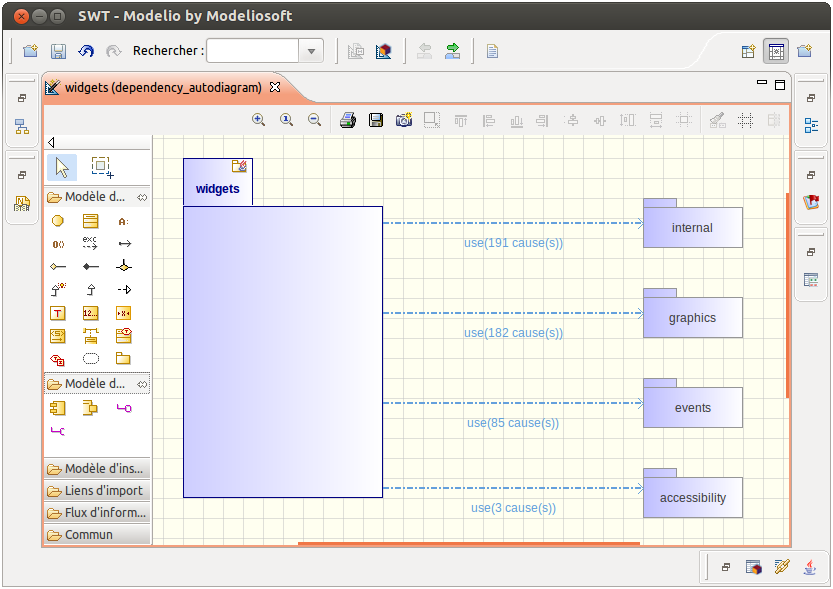 Modelio SD Java analyzes your application (.java, .jar), and builds UML models and diagrams (class and package) dedicated to Java programmers and designers.
---
Support for architects: audit and reverse engineering
Modelio SD Java brings you the Modelio link editor, used to browse inter-package/inter-class dependencies. This powerful tool provides an overview of dependencies, useful for cause analysis.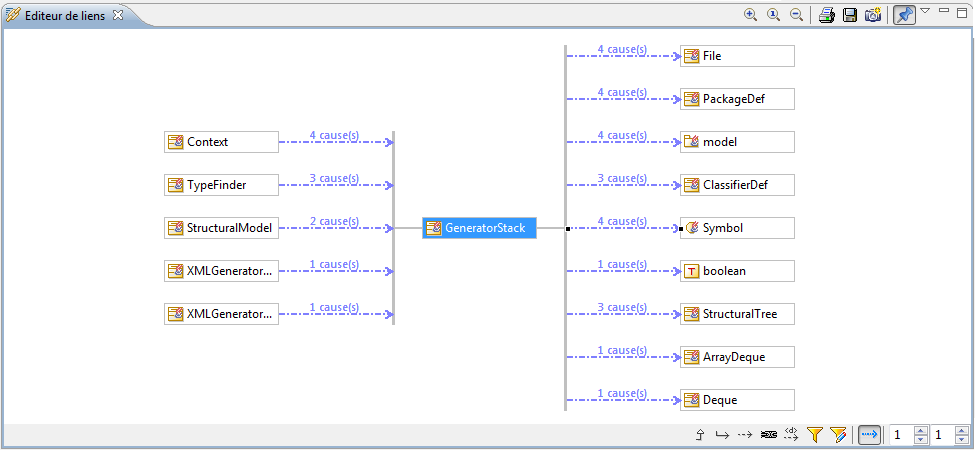 ---
Update of Java utility methods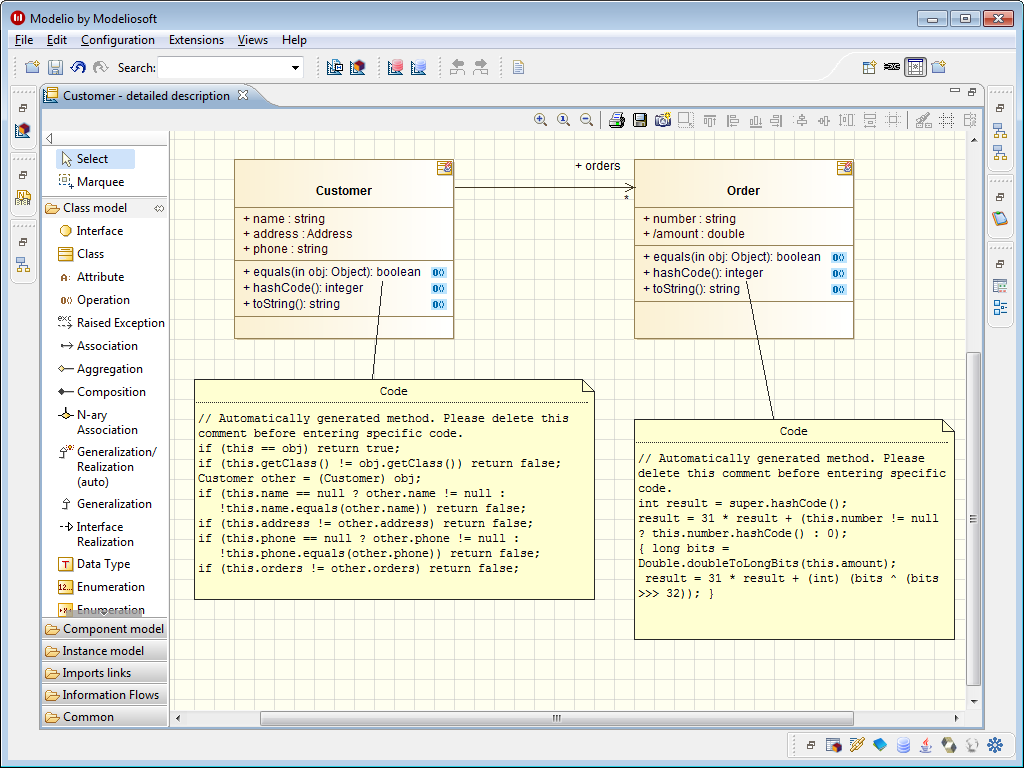 The Eclipse IDE is used to create utility methods (equals, hashCode, toString) from a class definition. However, it does not maintain them, which can cause well-known problems, such as bugs and maintenance work. Modelio SD Java keeps the Java code consistent, by reversing it and keeping generation "up to date".
---
Java-dedicated modeling ergonomics
The Modelio SD Java provides Java tool boxes and property windows to help you use UML in your Java development. Java concepts like "static" fields or "native" methods can be used directly with UML, while the built-in Java editor with syntax highlighting is perfect for quick edits.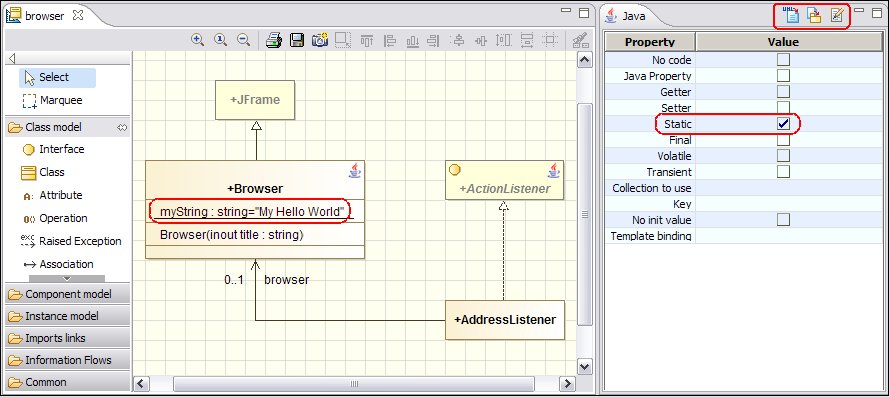 ---
Works with your favorite IDE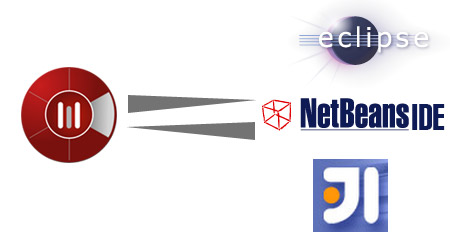 Modelio SD Java fits right into existing coding habits and environments. It can be seamlessly integrated into popular IDE source file management system, meaning that generated Java files are automatically managed by your IDE, while changes in the code can be easily retrieved in the UML architecture.
---
JUnit test generation
Creation of the test model from a Java model
Update of an existing test model
Detection of deprecated tests by listening from classes and method suppressions
Cleaning a test model of its deprecated tests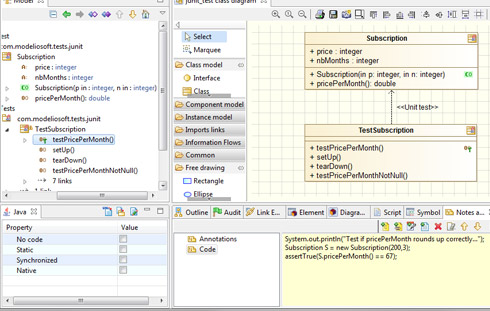 ---
Extensibility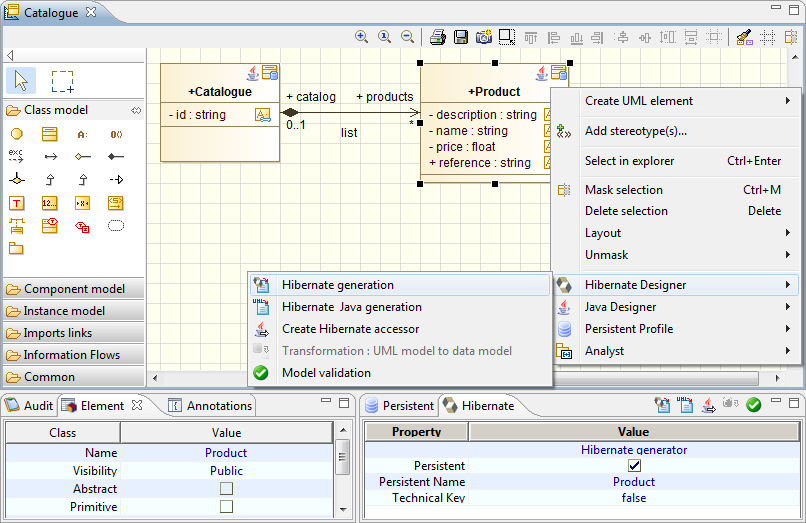 Modelio SD Java is completely extensible through its open Java API and metamodel, its (OMG standard)"profile" extension mechanism.
The graphical extension modeling tool "Modelio Studio" let you define your extensions without programming.

Developers can easily change rules to handle sets (associations), extend basic modeling types and their Java correspondence, automate generation to popular frameworks like J2E and Swing, and define their own development procedures, such as continuous integration automation or changes to the delivery procedures used within a team.