Modelio SA UPDM supports Enterprise Architecture modeling according to the Military standards DoDAF, MODAF or NAF.
Its World Wide Modeling technology allows model sharing and cooperation between very large federated organizations, according to each stakeholder's role.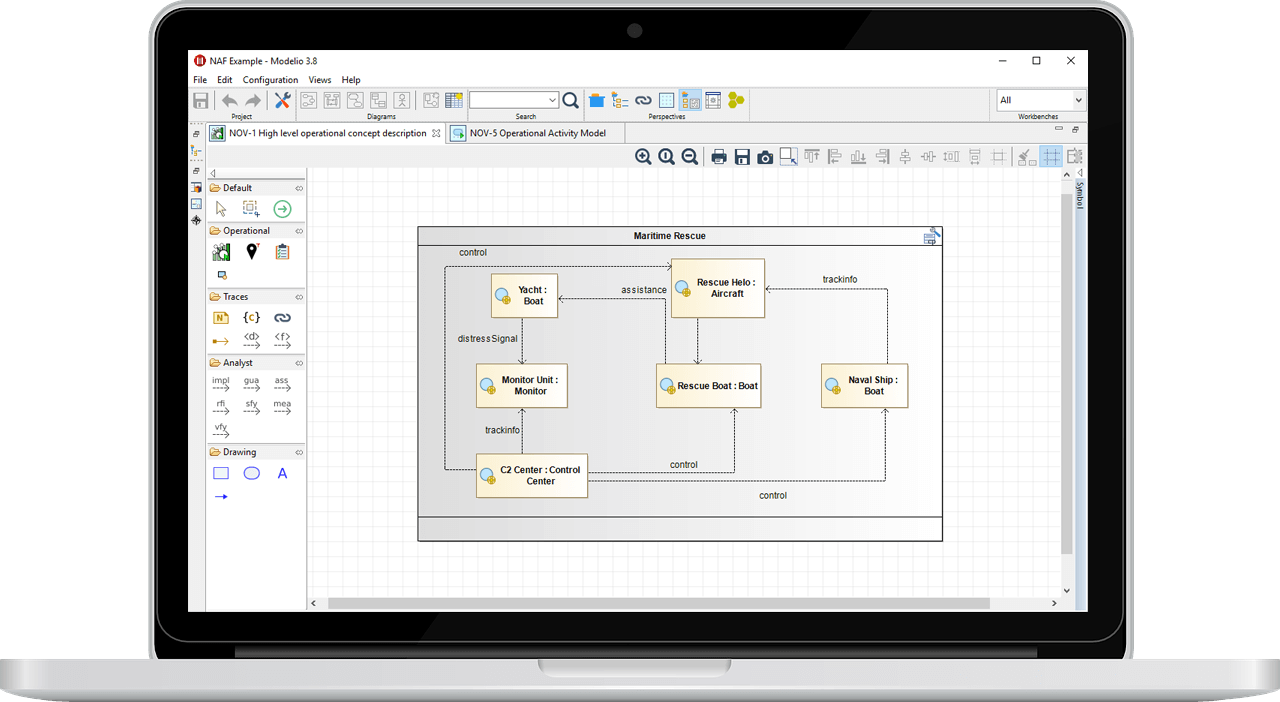 DoDAF, MODAF or NAF modeling support
According to your standard choice, Modelio supports military standards Enterprise Architecture modeling, by providing all required diagrams, dedicated matrixes, and document templates. Modelio provides consistency management of your models, even for large federated repositories.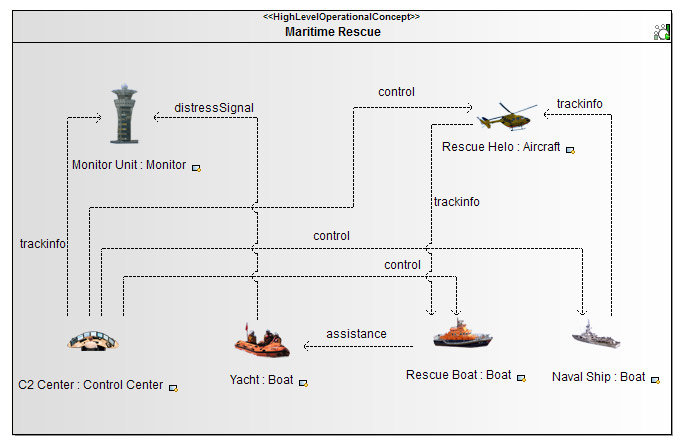 Enterprise Architecture framework adaptation to your context
MODAF, DoDAF or NAF are very broad Enterprise Architecture modeling frameworks, which need bespoke adaptation for every organization. Modelio can be customized to support your own methodology, your technical context and your partner's cooperation requirements.
Modelio SA UPDM is fully extensible and customizable. Organizations can:
adapt the supported model extensions,
add new model elements,
define or withdraw diagram types,
add consistency checks,
generate specific documentation,
implement specific modeling wizards,
define dedicated matrices.

The integrated Modelio Studio tool allows customization without programming.
Strategic view extended support
Modelio SA UPDM integrates requirement analysis, Risk analysis, goal analysis, and glossary definition. Requirements, Risks or Goals can be:
edited through dedicated spreadsheet editors,
graphically represented,
traced with the models,
imported from MS-Word document
exported/imported to/from Excel™.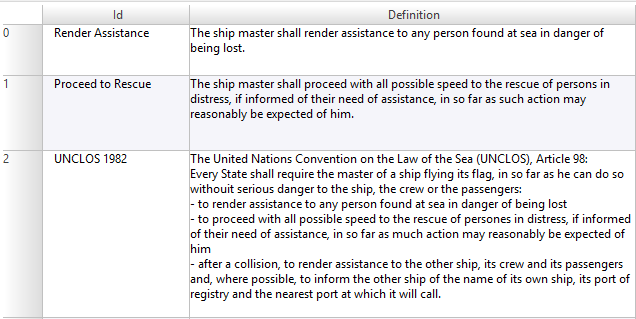 Traceability/Impact Analysis
Modelio SA UPDM's broad coverage of different modeling stages means that it is able to support many modeling levels, targeting different stakeholders.
Audit your models with generalized traceability:
Graphic editing
Matrices
Reporting
Traceability enables analysts to specify which information has been used to define new model elements. This makes it easier to understand modeling coverage, and understand why models have been created by other people.
Impact analysis can help to determine the cost of changes if a part of a model is modified. This mechanism helps discover the value of a model element, by clearly identifying which and how many model elements are based on it.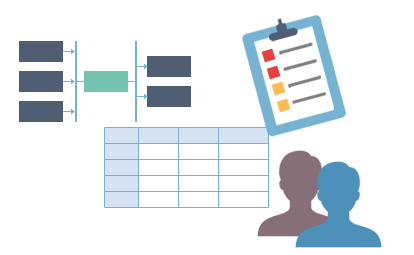 Integrated documentation capture
Modelio's support of rich text editing means that you can document any model element or diagram using your favorite editor (MS-Word, LibreOffice, ...), which is integrated with Modelio.
This feature provides you with a unique means of combining models and documentation to support your analysis work.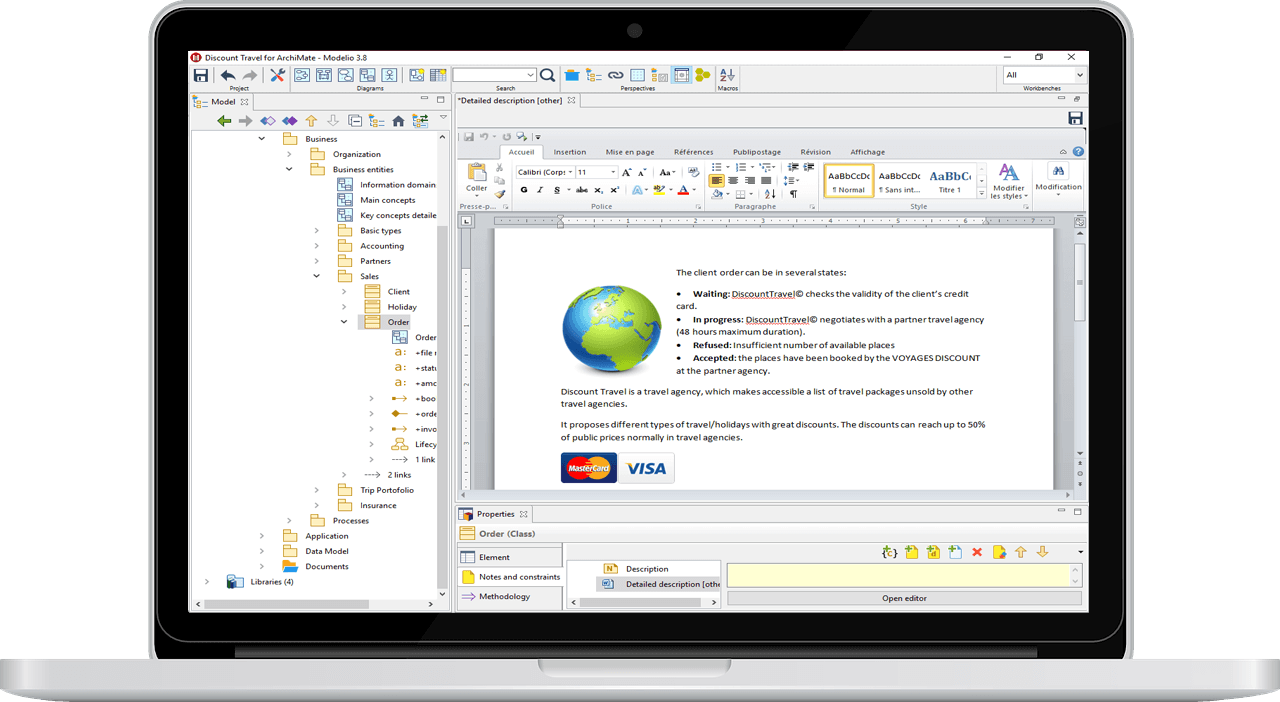 Need more information? We can help you
Please fill out this form and we will get back to you rapidly or you can email us directly (This email address is being protected from spambots. You need JavaScript enabled to view it.) or call us at +33 1 30 12 18 40.