Free webinar
Discover the new tools and techniques for Enterprise Architecture modeling using standards (TOGAF, Archimate, UML, BPMN,...)
Tuesday, March 21, 17:00 CET
Enterprise Architecture practices have evolved considerably, due in particular to the maturity and dissemination of TOGAF and Archimate.
You will discover:
New practices and tools for Enterprise Architecture modeling
The benefits of using standard practices and models for Enterprise Architecture activities
How to benefit from a combined usage of Archimate, UML and BPMN
The benefits of having a support of the Vision integrated to the model : Goals, Requirements, Risks, …
How to benefit from a new generation modeling tool and its repository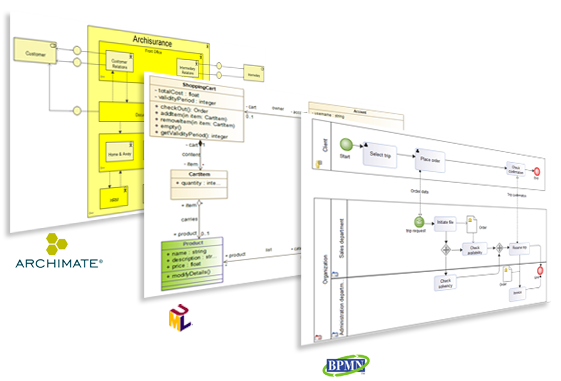 The new modeling tool generation provides on the shelf solutions for enterprise architecture: agile, easy to configure, providing unrivaled repository cooperative sharing, and easy to learn. The Modelio BA – Archimate Enterprise Architect tool will be demonstrated, showing these novelties on a concrete example.
Agenda
The benefits of using standard practices and models for Enterprise Architecture activities
How to benefit from a combined usage of Archimate, UML and BPMN
Integrated support of Vision, integrated to the model: Goals, Requirements, Risks …
Added value of a new generation modeling tool and its repository : Demonstration

Organizing models according to team structures, participants and their expertise, projects, projects federation
360° Vision : Traceability and impact analysis
Deliverables : documents, document portals, tables matrixes, audit, ..

Modelio BA Archimate Enterprise Architect demo
Q&A